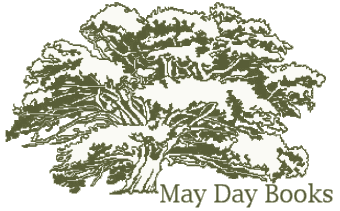 Mark Schneider---May Day Books
31570 Page Mill Road; Los Altos Hills, CA 94022
650-941-6707 - 

[email protected]


 


                                 "Ideas, like rivers, do not flow backward." Victor Hugo

                       

 
Welcome to the internet home of May Day Books. Please search or browse my inventory of hard to find, out of print, used, and rare books. Just remember, when it comes to searching less is more. That is, putting a single word (from the title or author) in the appropriate field will bring up more responses than putting in more words. If you can't find what you like please email me (or click on the "search service" button to the left) and I will search our offline inventory, other bookstores, and book search services for you at no additional charge.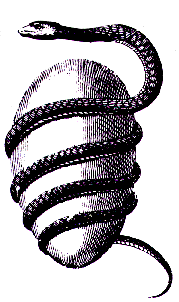 Free Media-Mail Shipping on Domestic Orders!
I offer free shipping on domestic orders via USPS Media Mail. I believe that your money is better spent on more books.
Payment Methods Accepted
Cash, Check, Money Order, Visa, MasterCard, American Express, Discover and PayPal all cheerfully accepted.

 

Return Policy
You may return any book for any reason within 10 days for a full refund. You can shop here with the confidence that if---when the book arrives---it's not what you thought, was misdescribed, or you just changed your mind, you can return it for a full refund.
About Me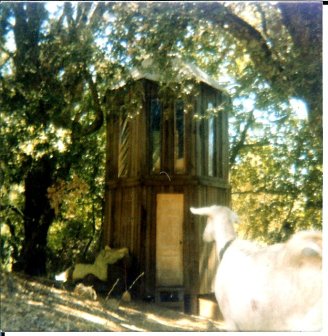 My name is Mark Schneider. I grew up in Compton, California, lived in LA and on its west side where I met my bookselling mentor, the inestimable Paul Encimer. In 1971, I moved to the San Francisco Bay Area to join a community called the Land. There we lived on 750 acres without bosses or bureaucrats, temporarily autonomous. Here's a picture of the two-story tower I built. I couldn't find a reliable source of ivory so i built it out of wood. That's Winnie (the goat) admiring it along with you.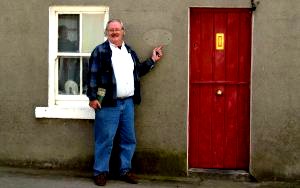 Here's a picture of me outside Nora Barnacle's childhood home in Galway during a recent trip to Ireland. They've taken down the historic plaque I'm pointing to and closed up the museum. Is nothing sacred? Some of my travel essays, including the trip to Ireland, can be found here. 
Since 1997, I've been selling books over the internet and by occasional mail-order catalogue. If you'd like to be on my email or snail mail list let me know. I'm planning to expand into a shop one of these days, but in the meantime my stock lives with me here in this charming country cottage high above Palo Alto, California, in the beautiful Santa Cruz Mountains.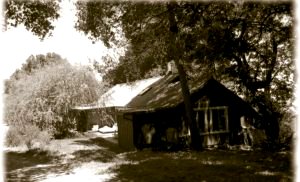 I'm part of an intentional community which has been in existence at this location since the 1960s. Coming out of the anarchist pacifist countercultures of such groups as Draft Resistance, the Institute for the Study of Non-Violence, and the War Resisters League, it is known as Struggle Mountain---a name given to it by Joan Baez when she lived here (referring to the struggle for a better world). Today, it is home to a lucky dozen of us. Here's a few of my fellow communards posing with me in front of the fireplace in the Big House after one of our monthly meetings.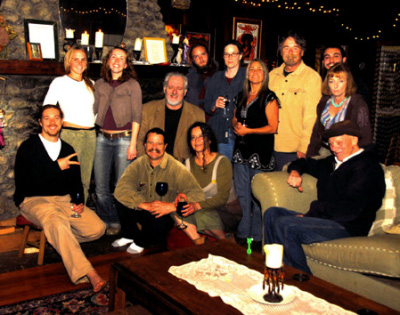 My Stock
I have a general used stock with special interests in left-wing politics (particularly anarchism), earth-based goddess religion, and satyagraha (nonviolence). Most of the books I have on these subjects are not yet online. If you don't see what you're looking for, don't hesitate to ask.
Most of my books are hardcover or trade paperback. My highest grade is `Fine' in a scale that runs, `Fine, Near Fine, Very Good, Good, Fair, and Poor.' Needless to say, anything less than `Very Good" needs to be a book of particular interest to me, either because it fetches a nice price or because I like the book.
Mark Twain on Waterboarding
 "Funston's example has bred many imitators, and many ghastly additions to our history: the torturing of Filipinos by the awful 'water- cure,' for instance, to make them

 confess -- what? Truth? Or lies? How can one know which it is they are telling? For under unendurable pain a man confesses anything that is required of him, true or false, and his evidence is worthless. Yet upon such evidence American officers have actually -- but you know about those atrocities which the War Office has been hiding a year or two...."